Buying and Selling Gold
Buying and Selling Gold at Koser Jewelers in Lancaster, PA
Do you have plenty of gold jewelry pieces in your jewelry collection? Do they include items that you no longer want to wear? You may be able to get top dollar for your unwanted gold pieces by working with our gold sellers in Lancaster, PA. Stop by Koser Jewelers or contact us at (717) 653-4941 to set up a time for us to examine your gold jewelry.
Gold and Jewelry Buyers in Lancaster, PA
Koser Jewelers is one of the area's premier diamond sellers, and our store is also a place for you to sell your unwanted gold in Lancaster, PA. We eagerly accept gold from people around the region. Your gold can, as a result, be a source of income for you, while helping us obtain material to use for the creation of custom jewelry or jewelry repairs.
Why allow gold jewelry to sit in your collection if it no longer meets your needs? Our gold buyers are actively buying now.
What You Should Know About Selling Jewelry
You can bring any type of gold jewelry to Koser Jewelers for gold buying consideration. In fact, we also accept other pieces as long as they're actually gold. Even if you're not sure whether a piece is truly made of gold, bring it to us — we can test it on the spot.
When you work with trusted gold sellers, you can:
Avoid having to hold onto gold jewelry that would collect dust
Make a little or a lot of extra money depending on how much gold you have
Create space in your jewelry collection for new, unique items that reflect your style
Get cash for gold items that are broken or no longer appeal to you
Remember that in addition to being jewelry buyers, we're also jewelry sellers and creators. Many times, customers will bring us vintage or antique engagement rings or other pieces that contain diamonds, precious gemstones or semi-precious gemstones. The customers want to use the diamonds or gemstones to generate a new piece, but would rather not hold onto the original gold setting. In these cases, we can purchase the gold at fair market value.
Trust Koser Jewelers
Is there old jewelry that you no longer wear anymore sitting in your jewelry box? Did you inherit some gold estate jewelry or gold jewelry from a relative but prefer not to wear it? Bring it in to Koser Jewelers and get paid! In some situations, we may offer money not just for the gold in your collection, but for certain vintage or antique pieces that we feel may be resellable.
Contact Koser Jewelers to arrange an appointment online, or give our team a call at (717) 653-4941.
Up-to-the-Minute Gold Buying Guide
The price of gold changes constantly. Over the last few years, the price of gold has risen astronomically compared to historical data. For years, gold held a steady price per ounce around $400, but today, it's well over $1,000 per ounce!
The chart below reflects the live price of gold at this very minute.
To update the live price of gold in real time just refresh the page.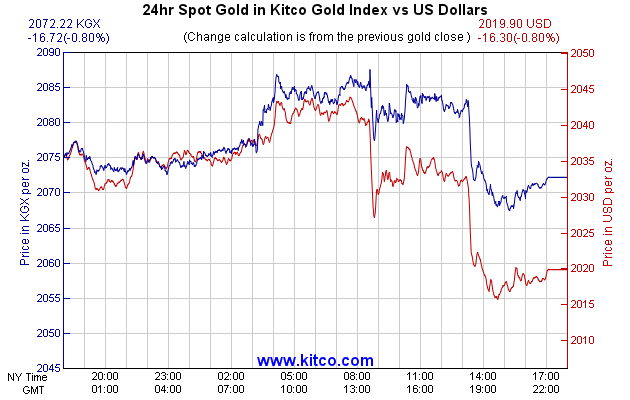 Source:www.kitco.com